TPD - Individual User Management (Guidance and Video)
In the List page (shown below) along side each name you will see three columns:
The Grade the user has given themselves
For trainees their Year in Training (YIT) - if this is missing then the trainees training history is not up to date
The Verified Role role that you as TPD have verified them in.  PLEASE NOTE If trainees are not verified as StR or CT then they won't contribute data to any trainer or programme reports.  If Trainers are not validated you will not be able to produce a trainer report on them
A link to managing the user - manage (see screen shot at bottom of page)
A tick box to select users for bulk updating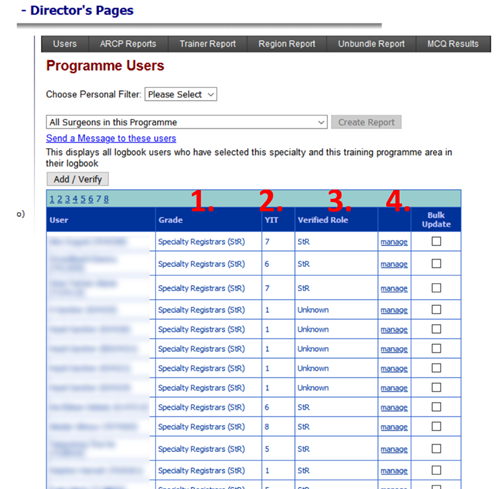 Clicking the link 'Manage' to the right of the Verified Role displays the screen shown below.
General Details: The manage user screen opens in this tab. In this screen the user can be verified in their Role (StR in the example here), their self assigned grade can be changed, and they can be shifted off the programme by changing their training programme.
Operations: show a list of the last 6 months experience and total experience in order of frequency. 
Reports - see individual reports section
Training History - allows you to see what a trainee has recorded as their posts and years in-training.
Messages - this provides an option to message users within the logbook.  Given that most trainees use the 3rd party app to access the logbook currently this is of little use